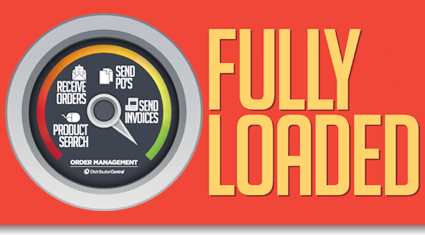 It's been seven years since Denver-based Catch Fire Marketing expanded from print marketing into the larger world of promotional products. Owner Steve Bocher was prepared to take the plunge and was looking for an integrated order management system that allowed Catch Fire to hit the ground running.
Turns out everything he was looking for – web hosting, online proof approval, billing, email hosting, search functionality and more – was available from a single provider. And the price was right: Free.
"As a new distributor/owner, DistributorCentral was a blessing," said Bocher. "I could get a web-based product solution, a solution for my website and all the tools I needed. DC made it crazy easy to be in business."
If it seems Bocher may have been a bit surprised by DC's capabilities. That comes as no surprise to Jason Nokes, President of DistributorCentral. Nokes said the all-encompassing order management system within DC is sometimes obscured by singular features sought out by distributors. When priorities are placed on DC's website hosting and product search capabilities, the total package of services sometimes gets overlooked.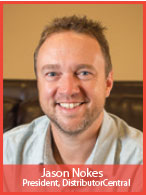 "It's possible to run an entire business on DistributorCentral," Nokes said. "Our goal has always been to provide both suppliers and distributors with a full package of tools that increase efficiency, lower costs and generate sales."
According to Bocher at Catch Fire, it's beneficial to have a system that's fully integrated with a database containing 300,000 products and that hosts websites and email. He said the true value starts on the first floor.
"At the most basic level, to be able to seamlessly go from order to proof to purchase order to invoicing is what gives us the most value," Bocher said. "Those four things are the cornerstones of business that any distributor deals with in the promotional products industry."
Those critical "cornerstones" are part of a larger framework of services. The DC distributor-focused online order management system is a full-scale utility representing an alternative solution to help distributors streamline business and present far more product information than paper catalogs.
DC's order management services include the ability to:
• Create and send purchase orders to suppliers
• Receive invoices and make payments to suppliers
• Enable merchant account and PayPal integration
• Manage proofs and artwork
• Provide full reporting tools
• Provide CRM features for customer management
• Import/export customer lists
• Integrate websites and social media
• Issue reorder reminders
• Export to QuickBooks and integrate third-party software
DC's Nokes said distributors' use of DC pays dividends almost immediately. Suppliers are typically able to respond more quickly to orders placed online, many actually offering online order discounts. Because the order process is simplified, the distributor saves time and errors are significantly reduced.
All at no cost. For good reason. Suppliers are willing to help sponsor DistributorCentral because they have complete control over product information and can give 100 percent of their distributors access that that information. Other services providers limit access by suppliers to update their product data in real time which can delay pricing updates and frustrate distributors. DC al-lows all distributors to view the product data and (again, for free) build websites for customers to purchase those products.
"If there's any one notion DistributorCentral has had difficulty in overcoming it is that people often believe when something is free, it can't be that good," Nokes said. "DC is rapidly dispel-ling such thinking. We see continued growth as distributors realize DC's free order management system is more robust and produces traffic equal to or greater than that seen from providers that charge usage and placement fees."
Nokes points out that suppliers' product information as posted on DC is typically more accurate. Suppliers are given full control of their product information housed within DC. When not beholden to the placement process and fees charged by other product platform providers, suppliers can quickly and easily ensure their product data is up to date. DC provides the ability to export and forward updated product information to other product platforms, thus requiring suppliers to generate updates only one time. Distributors in turn benefit when they know they're dealing with accurate pricing.
"We're always implementing ways to make the DC process simpler, more accurate and more accommodating," Nokes said. "We know how important that is for distributors who expect such service. When making distributors happy, suppliers realize the importance of incorporating DistributorCentral into their day-to-day processes."
There's no need to convince Steve Bocher of DC's value. With order management, web hosting and the like all being with DistributorCentral, he's grown Catch Fire Marketing into a truly full-service promotional products provider and an industry leader.
"DistributorCentral is literally part of Catch Fire's daily routine," Bocher said. "Our administrators check orders with pending proofs and make it part of their routine to track orders. Our graphic designers use the system for proofs. I would say almost every designer I've had over 14 years has been impressed with how integrated the online proofing system is compared to where they were working before.
"DC makes dotting the I's and crossing the T's very easy. All you have to do use it."